Garage Door Repair East Meadows
Call Us Now 516-283-5156
Welcome to our company Garage Door Repair East Meadow
Offering garage door repair services for years we can promise experience, thorough maintenance service and functional systems. Thanks to our training we can help you avoid accidents, provide the best repair parts in New York and offer immediate emergency services 24/7.
Some of the brands we provide service for:
Genie, Liftmaster, Sears, Craftsman, Allister, Chamberlain, and more!
Address: Hempstead
East Meadow , New York
Zip code: 11554
Phone: 516-283-5156
Hours of Operation:

We accept cash, credit cards, and checks.
A recognized garage door company with years of experience in handling different aspects of garage door repair and maintenance
No matter where you live in East Meadow, NY or anywhere else in the area, there are tons of companies out there that service garage doors. But it's a different story if a local company that is worthy of your trust and can be relied on to deliver 24/7 quality and affordable services is the one you are looking for. We proudly say we provide that for you at Garage Doors Repair in East Meadow.
A garage door is one of the most important and the heaviest moving part at home. Fixing it is not as easy as fixing a broken mobile or anything minor. You will need our professional assistance because we always do it right the first time round. We are specialists in garage door maintenance because chances are that you will seldom suffer from an unexpected breakdown at an inappropriate moment if you entrust your garage door with us. If you want to install a new door, our team can also assist with that. In fact we can help you choose the right one as we always work with top manufacturers like Clopay, Amarr, Stanley and Chamberlain among others. Your neighbors will certainly envy your choice after installation.
Regular maintenance and upkeep is important in all areas of the home but often there are areas that are seemingly forgotten and the only time they come to the forefront of our minds is when a problem arises. That is often the case with garage door maintenance. We find that many people aren't even aware that garage doors need regular maintenance but as with any machinery with motors and moving parts, those parts can become loosened or give way to wear and tear over time. With regular garage door alignment and lubrication the problems can often be eliminated before they cause trouble or interrupt your day.
Another area that is all too often overlooked are garage door springs. Whether you have torsion or extension spring or yet a galvanized garage door spring, it can become worn over time if not properly cared for and maintained. Garage Doors Repair situated in East Meadow has the knowhow and the professional staff ready to ensure that your garage door springs are properly adjusted and lubricated for optimum performance for years to come.
When it is time to repair or replace your garage door opener, call on your local pros in Garage Door Repairs located in East Meadow. Installations of garage door openers in brands trusted over the years of providing reliable service is also included in our service. Aside from troubleshooting problems with your garage door openers the brands that we carry are: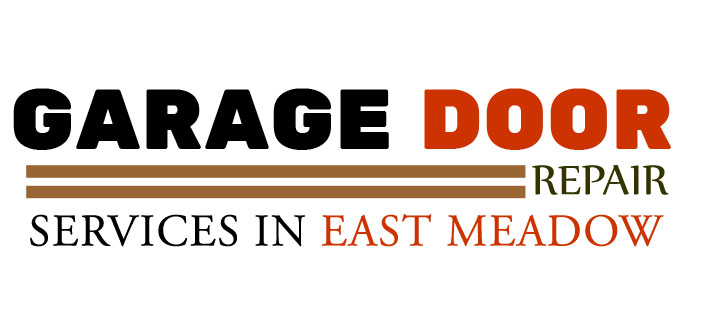 * Marantec
* Sears/Craftsman
* Genie
* Chamberlain
* Liftmaster
Your electric garage door comes with a remote for its opener. For improved safety you should do regular replacement of remotes. We carry and replace, install the following brands of electric garage door openers remote: Liftmaster, Intellicode, Genie, Clicker and Multi Code at our Garage Door Repair Easy Meadows.
Garage door cables and tracks are often found to be in need of adjustment and repair even when you might not be aware that a problem exists. Cables can become loose over time and come off the drum. Being too loose or too tight can cause potentially dangerous broken or snapped cables. Garage tracks can also become misaligned, bent or broken and need to be repaired or replaced as well.
Whether you just need garage door windows replaced, a section of a door or a full garage door replacement or installation, Garage Doors Repair East Meadow is ready, willing and able to do the job on time, on budget and on your schedule. Choose from aluminum or steel, wood or glass garage doors and know that the job will be done right, right away.
Ready, willing and able to do the job on time
Garage door repairs can be a huge headache, especially if you try to do it yourself. Doors off tracks? Broken emergency release? Weather stripping need to be replaced? Let us show you why our customer service is second to none. We believe that a modern society should not be without old fashioned customer service from the first telephone call until the follow up to ensure your complete satisfaction with our work.
For garage door service that is unsurpassed in East Meadow and beyond, call on your neighbor's Garage Door Repairs East Meadow. Give us the chance to show you what real customer service is all about and we promise that not only will you will be a customer now; you will certainly be a client for life.